.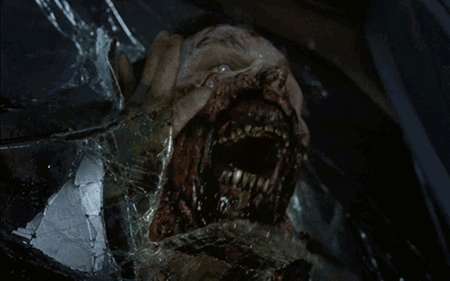 ... he screams for BRAIIIIIIINNNNNS!!! BRAIIIIIIINNNNNS!!! Et cetera. I can't believe I'm writing up my thoughts on
The Walking Dead
a second week in a row after I'd essentially written the show off last year (
here's last week's post
), but it really does seem as if somebody over there at AMC was listening to somebody's complaints because they really do seem to be righting some of their most egregious wrongs slowly. I won't say they've righted the ship yet, but there's signs of life in this critter yet. That scene with Lori in the lopsided car was easily one of the best sequences they've ever managed - I went back and watched it three or four times and it freaked me out worse with each viewing. The peeling face! Gah! Not to mention it gave a much needed boost to a character that's been about as interesting to watch as a toothache. So you can do more of that, show. Also if you insist on it you can keep having Andrew Lincoln take off some clothes too. I won't complain. (pics
via
)
.