.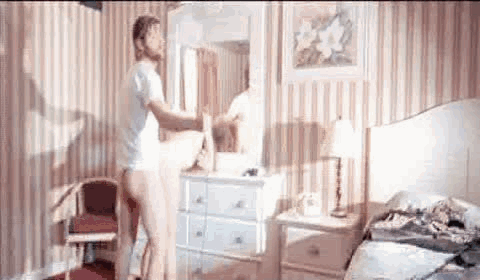 It's raining coincidences today! Earlier I found a reason to
post
about Joan Allen when I'd just been thinking about how I needed a reason to post on Joan Allen, and now I've got a reason to post on Adam Scott's ass when just yesterday I'd made that above gif of Adam's Scott's ass (from the movie
The Vicious Kind
) with the intention of posting it when I wasn't swamped with Trousers duties. I'm still swamped with the Trousers but this is too good to pass up. Here's Adam Scott on the topic of Channing Tatum in
an interview with Details
(
via
my similarly-minded pal Jarett):
"That guy looks like he was sculpted out of ivory. If they made casts of asses to sell at adult stores for people to have sex with, they would use his ass."
While I cannot disparage the merits of
Channing Tatum's arse
, Adam Scott, for being such a teensy tiny little person, has got a wonderful one himself and has no need to be deflecting ass-praise to anybody else. I would use
your
ass, Adam. (Good god, the things I write sometimes.) Anyway see a bunch of caps of Adam Scott's ivory ass
after the jump
.