.
Happy 40th annual
National Pig Day
everybody! On this day back in the year 1972 two sisters started up the tradition to honor these the smartest and sweetest meated of quadrupeds, and here we are forty years later apparently still doing that. And now I want some bacon. So in honor of this most mouth-watering of holidays, I give you five of my favorite horror movie pig appearances.
The ones that eat Gary Oldman in Hannibal
Farmer Vincent in Motel Hell
Leatherface's piggy sounds
And even though it's not technically a horror movie, the scene in Spirited Away where Sen's parents get turned into pigs is some freaky ass shit.
Or that scene in The Wizard of Oz where Dorothy falls into the pen!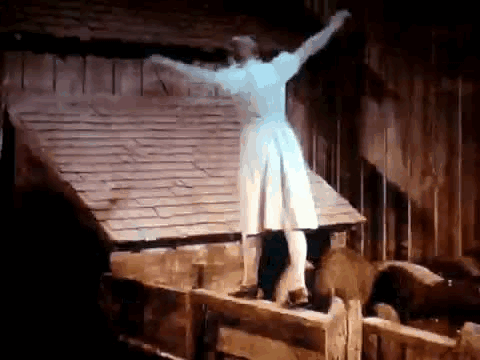 So scary! Ahh! Pigs are so horrible.
Yet also so delicious. What a conundrum.
As I thought about this list I had a horrible realization - I've never seen any of the actual full-fledged Killer Pig movies out there. Which...
what?
How is that possible? Shame on me. I've never seen the 2009 Korean movie
Chaw
or the 2010 French movie
Prey;
I've never seen the 1972 rape revenge thriller
Daddy's Deadly Darling
aka
Pigs
where the leading lady feeds men who remind her of her abusive father to some especially man-flesh desirous swine; I've never seen
Razorback
which oh my god I watched a couple of clips from
Razorback
just now on YouTube and I have got to see
Razorback
immediately.
I should have a pig-a-thon. And eat bacon the whole time. And then I would probably die, from bacon. And fear! I want that on my tombstone. "He died as he lived, from bacon and fear."